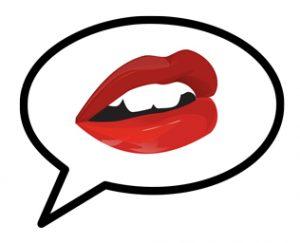 Blowjobs. The old mouth handshake. A gift that fits almost any occasion. A thoughtful way to say "I am thinking about you." Better blowjobs are always worth aiming for! While oral sex can seem fairly simple in theory, in practice there can be occasional complications. Today we are going to tackle some questions about issues that readers have had. From tips on overcoming medical issues to training techniques, this column covers it. Let's get started, shall we?
---
My Narrow Mouth Is Interfering With Blowjobs
"I have a fairly narrow mouth and it is an issue for me when it comes to blowjobs. Do you have any suggestions to help overcome a narrow mouth?"–Too Tight

This is a challenging situation to be in. While I wish I could say there is an easy solution, your options are honestly somewhat limited. No matter what your mind may crave, you will always be hampered by the limitations of your flesh. In your case, you have a narrow mouth hole, which is actually a fairly common condition.
Your main option is stretching exercises. I've found one given to me by a physical therapist to be pretty effective. When I needed to stretch out and loosen up my tight jaw muscles, following oral surgery, I used the Popsicle stick trick. How it works is that you take a stack of Popsicle sticks, just enough to fit in your mouth with a slight strain. Then wrap a rubber band around the sticks and insert the bundle into your mouth. Now watch TV or read a book, whatever you may need to take your mind off things.
As your jaw muscles stretch out and relax, you will find that the bundle will get easier to hold in your mouth. Take your time and do not push yourself. Eventually you will be able to add another Popsicle stick to the bundle. Over the course of multiple weeks, stick by stick, you can stretch out the range of your jaw. Doing this physical therapy technique can increase your range of motion, but it does have limits. Your jaw can only go so wide.
Another option is to bring your partner to erection with oral then moving on to other play once the penis is too big for your mouth. Dick doesn't have to be rock hard to suck on it. I love sucking on soft dick! It has a wonderfully velvety yielding feel in my mouth. Soft dick also has the benefit of fitting easier in a small mouth. Trust me when I say that most guys will love having you wrap your mouth around them no matter their state of stiffness.
For some folks, the narrow opening of their jaw impacts their daily life enough that they will go through with orthognathic surgery. I would never recommend this procedure to anyone simply to improve their BJ skills. However, if you feel it effects other areas of your life discuss it with your dentist to see if this is an option for you.
The most important thing is to know your limitations and effectively communicate them with your partner(s). You may just have to be okay with not necessarily being able to add blowjobs to your regular sexual menu. Best of luck.
---
I Want To Train My Sub To Deepthroat
"How do I train a sub how to deepthroat?"–Trying To Train

Short answer? You don't. Unless they are also on board with the concept. All sexual activity should feature enthusiastic consent from both parties. Even D/s and CNC relationships. Once you are certain that "training" is something that everyone in the relationship desires, you can move forward. If one person is doing something they do not want to do just to please the other person, resentment can grow and fester. Resentment is toxic and destroys relationships.
If your submissive is eager to master deepthroat but simply lacks the skills, you are in luck. As I discussed in this previous column there are steps you can take to train the gag reflex. The most important step is to be patient. When a cock is fully down a throat, all air flow is cut off. This can be an extremely unsettling sensation for some, and until your submissive can make their peace with the lack of air, no training can take place. While they are getting used to the concept of reduced air, do not get excited and grab the sides of the face or the back of the head. That level of confinement can cause claustrophobia and panic, rendering training attempts useless.
Once they have gotten used to the reality of no air, the training can step up. I personally like practicing by myself in the shower on a very soft and yielding dildo. The heat of the shower causes my throat muscles to relax and if I gag or spit the water washes everything away. Relaxing is critical for successful deepthroat, and without it one is never going to master the technique. As the cock slides down the throat, it will hit what feels like a stopping point. That tightened point is what has to be trained open and it IS possible-if the desire is real. Without the desire, one is just always going to be gagging and choking. And not in the good way. Let them practice frequently and give lots of positive feedback on any progress made.
If you get to the point that they are okay with the sensation of limited air and have trained out their gag reflex, congratulations! The world of deepthroat is now open to you. You can go as hard or soft as works for the both of you, I recommend having a towel nearby–deepthroat can get pretty slobbery.
---
How Can I Give Blowjobs While Suffering From TMJ?
"TMJ has been an ongoing issue for me when it comes to going down on a guy. How do I deal with the jaw clicking situation?"–TMJ Torment

TMJ is a tricky one, and as a fellow sufferer, I understand all too well your frustrations. My best advice is be honest with your partner, and prioritize your jaw health above the needs and desires of your partner. Suffering through pain and clicking or your jaw locking up is not a very sexy situation.
Start off by disclosing your TMJ to all partners going in, so that they are aware of your medical needs. It is much better for them be mentally prepared ahead of time and not thrown for a loop when the clicking and pain flares up. An understanding partner should be okay with your needs and if they are not, then they are honestly not the right person for you.
While pain and clicking is all kinds of not fun, there are work-arounds. You have hands, lips and a tongue. If oral with TMJ is mainly a handjob with licking and kissing on an understanding partner, then that is what it is. You don't need to deepthroat in order to be a desirable sexual partner, you just need to bring enthusiasm and eagerness to the table.Get creative and see what you can come up with! There is no right or wrong way to have sex, there is only what works for you and your partner.
If TMJ is a persistent issue for you, and you haven't already, talk to your doctor. Your doctor might be able to offer treatment advice or identify other problems that are contributing to this condition. Also, there are plenty of support forums for TMJ sufferers out there, and I highly recommend looking into one for tips and advice. Knowledge is power, the more you know the easier situations are to deal with.

Keep it Kinky My Friends,
RDG
Want to add your own insight to the conversation? Leave a comment below.
Have a question that you want answered in the Dirty Talk Advice Column? Contact Rain here.
OR