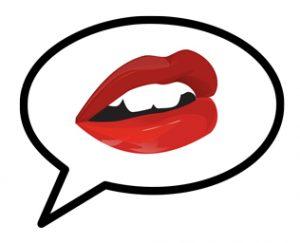 Oral sex is one of those friendly gestures that makes the world go round. A warm and receptive mouth on your most intimate parts says "Hello there! I accept you and want to make you feel good." And who doesn't want to be told that? Being accepted feels goooood. This week's column focuses on blowjobs, the gift that keeps on giving.
---
Why Is It Impossible For Me To Cum From Blowjobs?
"While I love getting my dick sucked, I can't ever seem to cum. What am I doing wrong? I can cum from fucking, why can't I cum from a blowjob?"–Want to cum
You actually are far from alone. Many men can't cum from a blowjob, but it is a topic that is rarely discussed. Blowjobs are supposed to be such

an awesome thing to receive that it never occurs to people that cumming from one isn't 100% guaranteed. There are two main reasons why a man has trouble climaxing from oral sex: an inability to relax and a too tight grip when masturbating. Let's break both of those down separately.
I can't really help you with the inability to relax, that is a highly personal journey that is different for each individual. What is it that is making you nervous and causing you to "hold" back, as it were? Some men tell me that they feel, as they get close to cumming via oral sex, like they have to pee, and that causes them to lose the orgasm. Others never get close to cumming in the first place. You need to sit down with yourself and see if you can figure out what your mental block is.
The other main reason that men can not achieve an orgasm from blowjobs is because they are holding their dick in a deathgrip when they masturbate. A hand is always going to be tighter than a mouth. By training your dick to only get off via a vice grip squeeze, a blowjob will always be a poor hand substitute that does not do the trick.
If you are determined to figure out how to cum via oral sex, take a break from beating the bishop. Give your dick a chance to re-sensitize. Once you have lessened up on the deathgrip solo sessions, your chances of orgasming from oral should increase dramatically.
---
What Can I Do To Make My Cum Taste Better?
"What can I do to make sure my spunk doesn't taste bad? Are there things I should avoid? Things I should eat? I am on meds and my girlfriend says it really affects the taste."–Not so tasty

While there is no magic supplement out there that can can make your jizz taste like strawberries (despite the claims of some companies hawking pills) there ARE some steps you can take.
Smoking, eating meat, particularly red meat, and drinking lots of coffee or alcohol can all affect the taste of semen. If you want to lighten the taste of your load, increasing your water and fruit intake and dropping the coffee, cigarettes and alcohol will all help. Not to mention that such steps are good for your health overall.
In your case, you mention that your partner noticed a difference once you got on meds. Medication can most definitely affect the taste of semen. But you need meds, skipping them isn't an option, so in your case, you might want to skip the swallowing instead. How important is it for her to swallow? Can she discretely spit out afterwards instead? If the meds altering the taste of your cum is a dealbreaker for your partner, find a workaround. And increase your fruit and water intake on general principles.
---
How Can I Better Incorporate Deepthroat In My Blowjobs?
"Do you have any deepthroating tips? I want to go deeper but my nasal passages seem to close up and I can't breathe! What can I do to improve my technique?"–Deepthroat Desires
Ah, deep throating. It is the big circus trick everyone wants to know how to pull off. The truth is that it is not easy; it's like being a sword

swallower. You have to let go of your fear and panic and be comfortable with the fact that you won't be able to breathe through your mouth or nose. Once the dick goes in, it cuts off air. There is no technique other than accepting your air loss.
Not everyone will be able to get there. For some, the loss of air leads to panic that is impossible to get on top of. If deepthroating is truly something you desire, start slow. Get a soft dildo that you can practice on while you are showering–if you accidentally make a mess, the water will wash it all away. Train out your throat, it takes time to control your gag reflex. Become okay with not having access to air while the dick is down your throat.
When you are practicing on real dick, having that dick be attached to a patient, understanding partner helps. When someone gets too excited and locks their hands on the back of your head or forces their dick down without reading you properly, it increases the feelings of panic and makes the air loss harder to take. Go slow and take your time. The more relaxed you are, the deeper you can go!
Keep it Kinky My Friends,
RDG
Want to add your own insight to the conversation? Leave a comment below.
Have a question that you want answered in the Dirty Talk Advice Column? Contact Rain here.
OR