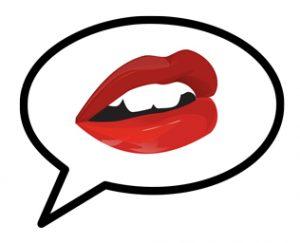 Pegging is coming out of the shadows and finally becoming accepted as a commonplace sexual activity and it is about darn time. For far too long, there has been a strong social stigma attached to men that enjoy being on the receiving end of anal play. This stigma denies countless men the pleasure and orgasms they deserve. The prostate gland is a treasure trove packed full of pleasure and it is too often denied its due. A helpful way to think of it is as the male version of a woman's g-spot. You wouldn't want your g-spot neglected and passed over, would you? That is a whole world of pleasure right there! It is the same for men. Just because one has to go inside to stimulate does not make the act any less valid (Check out my article for Tauntus Toys for more of my thoughts on this subject: The Beauty Of The Backdoor).
The societal shame around pegging needs to die a hasty death. It is based on outdated societal constructs that have no bearing on modern times. All of us deserve as much pleasure as we can ethically get our hands on. Today's column is for the pegging lovers on both sides of the toy. There are more of us out there than you might first realize…
Disclaimer: some of the links below are affiliate links. Information about my affiliate partners can be found HERE.
---
What Is The Best Toy For A Pegging Beginner?
"While I have never used a strap on before, it is definitely on my wish list. When I finally do get the opportunity, I am a little uncertain about what kind of toy to use. Is a long one too difficult for a beginner? Would I be better off selecting a shorter one until I get the hang of it? I don't know where to start and all the different options are overwhelming to me!"–Hard To Start

There is indeed an overwhelming amount of options out there HTS. There are so many choices that it can be easy to feel uncertain as to what to pick. I fully understand how it can feel overwhelming for someone just starting out. I am going to break down this question into 2 parts–length and style, as they are two separate factors.
Length is overrated and mainly used  for the visual aesthetic. Unless you are working with a committed power bottom that craves size you don't have to be too concerned with length. Don't believe me? Look at any porn. I mean really look at it. One that has some lengthy individuals visiting some eager holes. If you pay attention to the overall action, it is usually just a few inches going back and forth. The rest is just hanging out unused. Length is a visual trick. It looks impressive but is not generally fully utilized. Feel free to get any length that you are comfortable with, you will be fine as long as you are not attempting to take out someone's tonsils.
Another factor to consider when choosing a toy is girth. Most dildos tend to fall between 1.25-1.75″ in terms of width. If your partner(s) are also relatively new to pegging play, you are going to want to stick to toys that are not super girthy. Being stretched too wide can be just as challenging as being stretched too long. There are a number of beginner toys that are designed to be very easy to take for a first timer. I would recommend purchasing something that is on the smaller side until you feel more comfortable with wielding a strap-on.
In terms of quality, toys are not something that you want to cut corners on. This is something that will be going inside a body. You do not want a hunk of hard unsafe plastic made in some unknown location. You get what you pay for and a good toy does not come cheap. The average cost of one of my toys is around $120, but you can see and feel the quality immediately and it is worth it. Between one that is as flexible and flesh-like as scientifically possible, and a hard chunks of plastic that you could use to pound nails, I know where I am going to invest my money.
My personal preference is for toys that look lifelike and realistic as opposed to fancy colors and unusual styles. Your mileage may vary and a purple glittery cock could be what makes you happy. Some of my favorite styles are the Fuze Ten Ultra Dildo (you can read my review of it HERE) and the Mustang. Only you can decide what is the right fit for your needs. But finding out is half the fun! Go out and experiment until you find out what works best for you.
---
How Can Our Pegging Sessions Be More Spontaneous?
"Can strap on play ever be spontaneous? Or is that not possible? My partner and I have planned pegging nights but I keep wondering if there is some way to have it more spontaneous and a surprise as opposed to so structured. Is there any way to successfully do that?"–Craving Surprise, Not Structure

Spontaneous anal can indeed happen, and in fact happens the world over. As you read this column, there is spontaneous anal happening at this very moment somewhere out there. But spontaneous anal is a bit like playing Russian roulette–most of the time you will be fine, but every once in a while…
For some people, structure and planning and scheduling take the joy out of an activity. Something that happens naturally and organically is where the magic lies. If you are wired this way, then carefully planning out something ahead of time will not feel as rewarding to you. Talk over your needs and desires with your partner and see if they feel the same way that you do about spontaneity. If they do, have at it!
The key to successful spontaneous anal is a willingness to be okay with whatever might happen along the way. As long as you are okay with all the possible outcomes, have all the unplanned and surprise anal your little hearts and holes desire. Just keep a generous supply of black towels and lube nearby, within easy reach. Showers and soap exist for a reason and humans are pretty washable.
---
Is There A Unisex Strap-On Harness?
"Both my partner and I really enjoy strap on play and it is a big part of our lives. Are there any strap on harnesses out there that could be used by both of us? It is annoying to have to have two sets of harnesses and I would love to have one that we could both use. Do you have any leads?"–One Size Fits All

The answer to your question is…kinda. There are multiple companies that claim to make unisex harnesses for couples. I cast a skeptical eye on most of these harnesses. I am not sure how you would fit a biological cock and testicles as well as a toy into these harnesses without some discomfort for the wearer.
While it is inconvenient to have to be switching back and forth between harnesses in the course of a session, there is also the factor of how male and female bodies are built different. Consequently, any harness worn by both the male and female halves of a couple have to factor in not only anatomical differences but waist and hip differences as well. Due to these requirements,that will have to be a fairly adaptable harness!
A while back I got all excited because Spareparts, the maker of my favorite harness, came out with a DP harness designed for male bodied individuals. I immediately purchased one for myself, figuring that I could just double stack my toys. Unfortunately, I found that I had significant docking issues and I was unable to utilize the harness properly. You and your partner might have better luck using it with a real dick than I did with two dildos and a lot of enthusiasm.
I am fairly fussy when it comes to my harnesses and want something that is extremely comfortable, easy to use and will not slip or shift in any way. Regrettably, most harnesses do not seem to match all of those qualifications. A majority of the unisex harnesses that I see currently available do not have the strap security and comfort that I desire.
My best advise to you it to put some time and money into trying different setups. With some trial and error, you should be able to find the one that works best for your particular needs. If in the course of your experimenting you find a combination that really works for you, I want to hear about it! I am all about learning new things. Feel free to reach out to me if you come across something that you really enjoy. I would love to have a style that I could strongly advocate for as opposed to a handful of "maybes" that are marketed as unisex harnesses but all seem to have various design flaws.
Happy pegging to you all!
Keep it Kinky My Friends,
RDG
Want to add your own insight to the conversation? Leave a comment below.
Have a question that you want answered in the Dirty Talk Advice Column? Contact Rain here.
OR