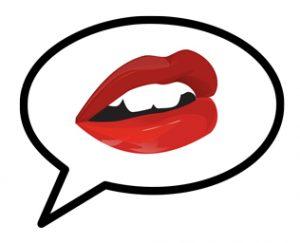 I know it can be difficult to make the transition out of the kinky closet. Especially when having to deal with intolerant and judgmental family and close friends. So, to everyone sitting on the fence, I wish you the courage it takes to come out of your personal kinky closet.
Coming out of the kinky closet can feel like being reborn, it truly is life changing to take that step. I can not recommend it highly enough. It is stifling and musty in that closet. There is not enough air. It is so freeing to be your true and honest self. I have never regretted coming out.
The liberation of finally being "out" can also come with some added kinky wrinkles. Today's column tackles some kinky conundrums that can come along with coming out of the kinky closet. Let's get started!
---
How Far Out Of The Kinky Closet Should We Go For Family And Friends?
"How much do you reveal to friends and family that you and your spouse are kinky?"–In The Kinky Closet

When we first emerge from the kinky closet, it can be hard not to shout it from the rafters. It is so exciting to no longer be suppressing yourself that one can feel compelled to tell everyone they run into.  From the grocery clerk to your boss you have the need to divulge your kinky escapades, in excruciating detail. I should know, I was certainly guilty of it myself. Resist that urge. I cringe these days to think of all the vanilla/muggles/normies that were subjected to my bruises and inappropriate oversharing when I first leapt into the kink pond.
When it comes to family and friends you only reveal exactly what is needed, no more and no less. At the heart of it, kink is a sexual preference. Do you have the kind of family and friends were you discuss with them your favorite sexual position? Missionary over doggy style? Probably not. While there are no doubt some families where that is dinner table conversation, they are few and far between.
There is the argument that one should tell their friends and family that they are kinky so that they don't worry that you are in an abusive relationship. Especially when there are visible marks and bruises. I would counter that unless you are in an extremely temperate environment, it doesn't really put you out to cover up visible bruises while visiting loved ones. Sure, it is your body and you should feel free to wear whatever you want to. I believe in that strongly. But vanilla people are not consenting to come into your kinky dynamic. Kink induced bruises could be very distressing for someone to see on a loved one.
The problem with discussing your kink with vanilla people is that often they don't know the difference between consensual and non-consensual beatings. No matter how much you try and educate them about your relationship dynamic and why being hit can be romantic and intimate to you, all they can see is that you are in a relationship that is causing you physical harm. Of course the difference makes sense to you but a majority of people just can't comprehend it.
The heart of kink is consent. Are your family and friends wildly curious about your sex life? Unless they are, there is no need to bring up your sexual proclivities to them. A little discretion goes a long way. I know many people that self disclosed to everyone around them in the throes of their newfound kinky zeal and regretted it in the long term. Tread lightly in making your sex life other people's business.
---
How Do I Talk To My Family About Including Our Sub In Holiday Gatherings?
"The holidays are coming up and there is a recent addition to my family–my wife and I have taken a collared submissive. I am happy, my wife is happy, our submissive fits into our household even better than we had hoped. The only stumbling block is the upcoming holidays. We feel like family. Our submissive is part of that. Having her not be with us for Thanksgiving would not feel right. She shouldn't be excluded just because she isn't married to me. How do I get my parents to be okay with us bringing her to Thanksgiving dinner with us?"–One Big Happy Family


As a practicing polyamorous person, I understand all too well your current predicament and I sympathize. I have been there myself. Family is family. Not feeling free or comfortable to be with your chosen family can feel extremely painful. Your submissive shouldn't feel like she is not welcome to be with her Master, wedding ring or not.
There are a number of different factors to consider here however, as it isn't just you, your wife, and your submissive. Your family also counts. It sounds like you and your wife having Thanksgiving with your parents is a long standing tradition…one that has never had a newly acquired submissive in the middle of it before. The fact that their son is in a polyamorous and kinky relationship can be a lot for a parent to process. Do they even know that you are kinky and poly in the first place? If they don't, Thanksgiving shouldn't be the first time that they find out.
Your question doesn't say if your parents know or not. I am going to tackle this as if you have not yet come out of the kinky closet. The first and most important step is to have the conversation with your parents, long before the holidays are breathing down your neck. You need to give them the time needed to process. In terms of the information given, less is more. Stick with you being in a polyamorous relationship. The fact that you identify as being a Dominant with a collared submissive is simply unnecessary information. No matter how important that part of the relationship may be to the three of you, your parents don't need to be that informed of your sex life and probably won't understand it.
All your parents need to be aware of is that you are in a relationship with a second person, that person is important to you and that you would like to bring them with you for Thanksgiving. That is all. No more, no less. Your parents are perfectly in their rights to say that they are not comfortable with hosting your girlfriend as well as your wife. It is their house after all.
If, after you tell your parents about the situation, they can not find a way to be comfortable with it, you have to respect that. At that point, your opinions are to either skip Thanksgiving with the folks for the first time or go and leave your submissive behind. Hopefully it won't come to that. The sooner you address the situation, the more time you will have to figure out the best solution and deal with any potential emotional fallout.
---
How Do I Handle Traveling To My Parents House With My New Collar?
"Recently I earned a collar, and I could not be more thrilled. I worked long and hard for it, and our collaring ceremony was something I still get chills thinking about. Among the vows I took was to never remove my collar. At the time, it seemed like a simple enough vow and one I was happy to obey. However, I have to travel home for the holidays and I am now worried about how I am going to get through an airport metal detector and what my parents are going to say about my new "jewelry". What should I do?"–Collared and Kinky

While you have not included a photo of the collar in question, I am guessing that it is probably an eternity collar. Eternity collars tend to be the most frequently used jewelry when it comes to collars. Unlike most jewelry, eternity collars do not have an obvious unlocking mechanism and appear to be one smooth band. This actually isn't the case however. A small Allen wrench will open up a collar for removal. Some people that want to ensure that this option is taken off the table will drop super glue into the screw after it has been tightened, I am not sure if your Master has taken this step or not.
The idea of never ever removing a collar seems very thrilling but it's not always practical in the real world. Alas, the real world is where we live. Unless your Master has gone so far as to seal your collar shut with glue, there is probably some way to remove it. They should send you on your way home with the key and an understanding that while you will do your very best to keep your collar on, something might come up where that is not an option.
As someone who travels with…interesting luggage most of the time, I always build in extra time for the TSA. No matter how much time you may think that you need, give yourself a little extra. Factor in the time that will be needed to fail a metal detector, the time needed to explain that your jewelry does not come off and the time needed for a pat-down if the TSA feels that is necessary. Once you have gotten through traveling, you get to face the parents.
Luckily, the winter months tend to be colder and it is easier to get away with things like turtlenecks and scarves. The odds are fairly high you could keep your collar so well covered that your parents never notice in the first place, thus avoiding any awkward conversations. And if one of them does notice and ask you about it, simply tell them it is a piece of jewelry. Which it is. You are not lying. You are simply not inviting your parents into all of the minute details of your sex life. Holidays are a time to focus on family and togetherness, and the fact that you are a freshly collared submissive does not need to be a topic to focus on. Best of luck and safe travels!
Keep it Kinky My Friends,
RDG
Want to add your own insight to the conversation? Leave a comment below.
Have a question that you want answered in the Dirty Talk Advice Column? Contact Rain here.
OR