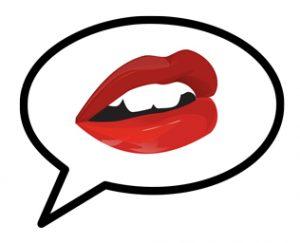 People are a mixed bag. When things are good, they can be very very good. But when things go wrong, people can reveal a much darker side. A darker side that includes threats of blackmail, doxxing ,and outing. While blackmail can be a fun fetish headspace to play in, genuine blackmail and threats are not fun. They are terrifying.
Recently, a number of readers have reached out to me about their concerns over being blackmailed. Today's column tackles the topic of blackmail and the ramifications that such things entail.
---
How Do I Keep My Former Mistress From Doxxing Me?
"I am a submissive looking for a Mistress. There is a woman who I had tributed to serve on kik. I got scammed for $109 and then I didn't trust her so I quit. She is now BLACKMAILING me claiming that she has my name (which she got from my email id) and my address (I think she's lying since paypal doesn't show seller's address to the buyer) and my social media (I'm not on social media like facebook and insta and twitter with the email id she has. She says i should enjoy the last few moments of not being shown to the world. I am a bit worried, but my email id with my full name and my dick pic on kik is all that she has. What do I do?"–Blackmailed Submissive

So called "Mistresses" that engage in blackmail and threats give kink a bad name, and I view them as predators and bottom feeders. They prey on people that are vulnerable.
What she is threatening you with is called Doxxing. As Wikipedia defines it:
Doxxing (from dox, abbreviation of documents) or doxing is the Internet-based practice of researching and broadcasting private or identifiable information (especially personally identifiable information) about an individual or organization.
One of the main draws to engaging in clandestine kinky behavior online is the anonymity that the internet provides. Unfortunately, it can be far too easy to divulge small amounts of personal information online, in various places, that can be easily pieced together by a driven individual and then fall prey to doxxing.
Let's break it down from the top to see if she is offering up a legitimate doxxing threat. From what you describe, it seems that what she has on you is your name, a photo of you that does not include your face, and your PayPal payment information.
There is nothing that can connect the photo of your genitals to you unless you have a tattoo near your thigh or other distinctive identifying marks. As for your name, unless you have a very unique name, a name isn't much. I'm sure if you did a Google or Facebook search for your name you would find a number of people share it with you. Which leads us to PayPal. Unfortunately, PayPal will share your postal address with a seller if you have one on file with them. I receive donations through PayPal and am often given the person's name and mailing address. I find this included information handy so I can send them a thank you card. It is entirely possible that she actually has personally identifying information and the doxxing threat is legitimate.
Now the question is, who is she going to find that has an interest in your private sex life? She is going to have a hard time finding anyone online that even cares about your sexual proclivities. If you are a high profile individual, then you should know better. I am assuming that you are not. If you are married or in a relationship with someone that will be upset by your actions, then I suggest being upfront and honest with them about your activities.
My best advice is–do not respond to her in any way. Do not engage. Do not respond to a single email. Block her on all social media. Never give in to blackmail. If you are refusing to engage with her, the odds are good that she will not even bother to post. She's not going to get anything out of it. And if she does post your name and someone ends up asking you about it? Deny. Deny it is you. Do so calmly and coolly.
There will be nowhere for the conversation to go after that. The currency of blackmailers is fear. If you act unafraid and don't agree to participate in their game, then they wield no power against you.
Kik Mistresses hanging out online seeking tribute are a dime a dozen and they usually do not have your best interests at heart. She got some money from you and then you cut her off. So she resorted to blackmail in an attempt to keep the money coming in. She is hoping that you will be so worried about being outed that you will offer her more money not to release your name. Ignore her doxxing threat and don't fall prey to her manipulative ways.
Consider this a valuable learning lesson. Don't let your desire for submission to cause you to rush into the wrong situations. Do not give out photos of your face. Don't send money to people unless you know them extremely well. Ultimately, be very careful about the information you divulge online. Especially if you are engaging in activity that you are ashamed of. Good luck on your submissive journey and only invest your time with those that deserve it.
---
Help! Someone Is Threatening To Out Me As Kinky.
"Recently I received an email from someone I do not know on a kinky social media site. They said that they know who I am and that they are going to out me to my family as kinky. I am so scared that I am having trouble sleeping. Nobody in my family knows that I am kinky and I come from very conservative stock. They would NOT be okay with me being kinky. How do I handle this?"–Threatening To Tell

You do not say whether or not you posted photos of your face on this kinky social media site TTT, so I will answer your question both ways. In an ideal world, the photos that you posted on the kink site do not include your face or name or any identifying details. If that is the case, ignore this email. Do not engage in any way. They are attempting to get a reaction from you. Any reaction means that they win. Do not give them that victory. It is entirely possible that they have no idea who you are and they are just trying to troll you.
If you have posted photos that include your face, remove them immediately. Make sure that your user name and location can not be linked back to your real name and where you live. Lock down and scrub your profile as needed. And then? Do nothing. There is no point in borrowing trouble before it shows up on your front door.
In the case that your friends or family do end up being told about your kinky proclivities, you have two options. You can either deny it as Internet harassment or you can come out of the closet, removing any power the person trying to out you has over you. I found that coming out as kinky was much easier than I had anticipated and now there is no way for anyone to blackmail me or threaten to out me. Being your true and honest self might go over easier than you think.
If coming out of the closet is not an option that you feel comfortable with, then denial is what you are left with. Your conservative family members are not going to want to wade through the topic of your sexual proclivities. Tell them that you have no idea where they got such information and that it is simply not true. Trust me, they will be more than happy to drop the matter. Hopefully it never comes to that though. I am sorry that you are having to go through this. There are some bitter people out there that do not want to let anyone have any fun. It looks like you ran into one. They are probably resentful that they can't play with you and like a bitter fox are lashing out.
---
My Ex Is Threatening To Post Revenge Porn Of Me.
"My ex and I had a very bad breakup and he has nude photos of me that I do NOT want anyone to see. He told me after we broke up that he is going to post the pics on revenge porn sites. He is mad enough that it doesn't seem like an empty threat. I am terrified that I am going be naked online forever. How can I stop him from posting?"–Revenge Porn

The truth is that you cannot stop him. If he is determined to post these pictures, he will. You can let him know if revenge porn is illegal in your state (find out here) and threaten to have him prosecuted if any of the photos end up online. However, you are best off not communicating with your ex. In any way.
If he has not yet released the photos, any further communication you have with him could easily go wrong and tip him over the edge. He is holding the threat of posting over your head in an attempt to have power over you. Odds are he is using these threats to stay involved in your life and keep you interacting with him. Do not give him any fuel. Walk away. Freeze him out. Hopefully his words are just an empty threat and he is not actually going to go through with it.
If he does end up posting the pictures, all you can do is clean up after the fact. There are many good sites (like this one and this one) that can provide you with information about issuing takedown orders whenever you find photos of yourself. There are reverse image search tools like Google Images and TinEye that you can use to see if specific pictures are online. I warn you that it can be stressful cruising by revenge porn sites or seeing if your pictures pop up in searches, if this is the direction you decide to go. It can be a nightmare that goes on for years. Once something is on the Internet, it is on there forever. I do not envy your situation.
In the case that the pictures do end up online and anyone approaches you claiming they have seen your nudes, deny it. Tell them that they were Photoshopped by a vindictive ex. Make them feel so uncomfortable about bringing up the topic with you that they never will again.
Yours is a very common situation RP, and I always recommend never taking photos with your face/identifying tattoos in them. No matter how much you think you can trust the people you are giving the photos to. Also, unintended leaks can happen. Phones and clouds can be hacked. Computers get taken in for repair and photos stolen. It just isn't worth the risk.
View every single compromising photo that you take as a photo that could potentially be shared with the entire world. As long as that is the mindset that you keep, you will significantly lessen your chances of ever finding yourself in this situation again. It is heartbreaking to have someone that you trusted treat you like this. My sympathies.
Keep it Kinky My Friends,
RDG
Want to add your own insight to the conversation? Leave a comment below.
Have a question that you want answered in the Dirty Talk Advice Column? Contact Rain here.
OR