It sounds like a dream job doesn't it? Lots of fancy outfits, getting paid huge amounts of money to lay about being sexy, fans telling you how amazing you are on the regular, flexible hours, travel to exotic locations, who WOULDN'T want to be a fetish model??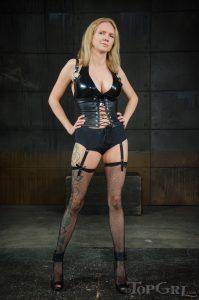 Well, except for the fact that fetish modeling isn't anything like that. Not even close. Done right, it can be a very fun and enjoyable activity, but it is not the path to fame and riches that it might appear to be at first glance. One should do it for the experiences and opportunities, not for the supposed bags of money & adoring fan base.
So How Do You Become A Fetish Model?
"How do you become a fetish model?" is one of the most common questions that I get asked by people. Today I will be going over tips, tricks, safety, and what you can expect if you decide to give it a try.
The first thing you have to decide– are you truly comfortable with provocative photos of you being out there? Those photos will be online forever. Yes, forever! It can affect you getting certain jobs in the future, such as teaching or politics. Some people will be made so uncomfortable by you posing for provocative photos that they will judge you as a person or not want you around their children. If you are okay with all of the potential ramifications that being naked or near naked online can entail then let's move on to the next step…
What "Kind" Of Fetish Model Do You Want To Be?
There are multitudes of modeling opportunities out there. Fully clothed, semi nude, full nude, erotic, private photo shoots for collectors, video shoots for companies, cam shows, starting and running your own website, demo modeling for classes and products, full porn shoots, the possibilities are endless and varied. Each type of modeling gig comes with its own type of expectations and requirements. Once you have settled on what type of model you wish to be, you can move forward to actually booking shoots. And don't forget, you can always expand or switch your modeling focus once you get started.
How Much Does Modeling Pay?
The main myth I want to dispel is the concept that modeling pays bucket-loads of cash and models are incredibly wealthy. Let's use math on this one. The average person works 5 days a week at roughly 40 hours. There is no modeling job that is 5 days a week, it is simply not possible to get that many gigs booked regularly.
Say you land a shoot that pays you $1000. That is amazing, right??! So much money for a single day of shooting! But how many $1000 gigs are you going to book in a month? Let's be generous and say you get TWO in one month. That puts you at $24,000 a year. Before taxes. And yes, models have to pay taxes but most companies do not deduct them from your paycheck. You better have set aside a lot of money for tax time. Modeling pays very well for a short period of actual work. However, people with regular jobs end up making much more money in the long run than a fetish model ever will.
As a full time model I did camming, taught classes, did photo shoots, video shoots, porn, Pro Domming, and did night club performances. And I was still struggling to make ends meet. Don't ever let that $1000 paycheck distract you from how infrequently the gigs actually come in.
Booking Gigs
Now comes the hard part: booking gigs. Most of modeling isn't being sexy in front of the camera, it is endless grooming, tanning, dieting, working out, shaving and looking for more work. Life becomes a never ending series of job interviews and you most often do not get the job. It is hard not taking rejection personally. If you do not develop a thick skin about rejection you will quickly lose your mind. There will always be a prettier, thinner, younger person out there. Modeling is based solely on your flesh. It is not about how many degrees you might have or your volunteer work in third world countries. It is just about how good you look.
The other thing to be aware of is that because most fetish modeling is provocative to some degree, most photographers tend to be male. Let's be honest, having hot, mostly naked, women strike flattering poses only a few feet from you is why most photographers got into the business. The trick is to find a photographer that is professional enough that he can hold himself in check while he is working with you. Beware the "Guy with Camera".
How does one do that? References, looking at their portfolio, seeing what other models they have worked with before, listening to your gut and paying attention to how they conduct themselves during the email or phone negotiations. Creepy and unprofessional will out themselves soon enough and they will do it every single time. Your gut is going to tell you if something is not right. Do not ignore your gut because you are hard up for money. It is when you are desperate to pay your rent that you find yourself in bad situations. Never disregard that gut feeling over desperation for money.
Once you DO have a gig, make sure at least one or two people know where you are. Give them the address of the shoot location, the photographer's first and last name, their phone number, and how long the shoot is expected to take. Make a point of checking in with your safety call buddy in front of the photographer so that they know that someone is expecting you to be done by a certain time.
Promoting Yourself
Social media is your best friend when it comes to finding work. Get all the social media accounts: Twitter, Instagram, Model Mayhem, Facebook, etc. Join modeling groups. Find sites you would like to work for and submit applications. Applications can get lost in the shuffle. If you don't hear back submit them 3 or 4 more times. What is the worst they can do? Not hire you? Your persistence can pay off. Become your own agent. Hustle yourself, as you are the product that you are hustling. The more that you promote yourself, the more you put yourself out there, the higher your visibility, the easier it is to land work.
Congratulations, You're Now A Fetish Model!
You have finally done it! Dodged the creepers that want to put their hands all over you in the name of "erotic art", got a portfolio that you are proud of and are landing work on the regular. Life is good. There is just one last thing to factor in…your fans.
People WILL treat you different. It might be a disdain that you dared to get naked on the internet or it might be an artificial sense of familiarity because they see you all over the place. You will find that people fully expect to be your best friend–they know what you look like, sound like, act like, they like everything about you, how could you two NOT be best friends? And then they get offended when you do not act like the best friend they know you to be. People either want to look down on you or they want to fuck you. Or they want to look down on you while fucking you.
If you can deal with the infrequent gigs, inappropriate photographers, excessive grooming and overly familiar fans, modeling is an awesome and empowering job! I did it for years and I loved every single minute of it. Good luck and enjoy 🙂
Keep it Kinky My Friends,
RDG