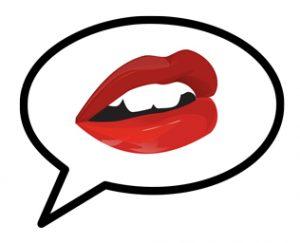 Hello my kink curious friends! I am back with advice for a new set of questions. This week's questions focus on being new to the kinky lifestyle and confused about labels, reading your bottom's nonverbal cues and how to gain play experience when you are a newbie. Fresh from the mailbox and ready to go, let's get started shall we?
---
What Do All These Kink Labels Mean?
"I am very new to kink and have only just started exploring. It is very fun but also very confusing with so many labels. How do you know if you are a Top, a Dom, a Primal, etc?"–Lost in Translation
Labels are a tricky ever shifting thing, and I am personally averse to them. While it is basic human nature to want to categorize and label things,
I refuse to be put in a box with a label slapped on my forehead. I approach my kink in a much more natural and organic way, which can drive one-true-wayers batty, as they want everything strictly defined.
For the sake of clarity, common consensus is that a "Top" is an individual that does the things to another person the "Bottom". Topping is a form of physical power. A "Dominant" is someone that is focused on psychological power as opposed to just the physical aspect. Tops do purely sensation play while Dominants also focus on the mental aspects of having someone submit to their will. Primals are rough, raw, and do not bother with the elaborate formalities that Dominants explore. They prefer an animalistic state as opposed to ordering their submissive to "kneel and assume the position."
Are you still confused? Do these labels still not make sense? Can't figure out which one applies to you? Do what I do and just identify as a kinkster. Even if you do figure out a label for yourself, it is highly possible that you will grow and shift as a person and that label will stop applying to you. Kink is a never ending journey and you don't need to be in a rush to fit yourself into a defined box. Just have fun with it! After all, that is why we are doing all this kinky stuff in the first place, am I right?
---
How is a newbie Dominant supposed to learn?
"I am a newbie and I have a lot of fellow newbies who learn that I am a Dominant and approach me for play. Do I refer them to someone with more experience than me? I feel like I am not learning anything. How can I learn if it is newbies playing with newbies?"–Student Driver
To sum up my answer in one word? Education. I can not stress education strongly enough. Education comes in a multitude of ways, from attending classes, buying books, and reading discussion threads to going to play spaces and watching others play.
If I were to pick the most valuable tool for learning, it would be attending classes on the subjects that you are interested in. Classes are a great way to learn, from an expert, proper techniques and pitfalls to be avoided. Good instructors give you years of their accumulated knowledge in an easily digestible manner.
You can certainly refer people to other, more experienced Dominants, if you don't feel ready to play. But the best way to gain experience is by doing. Let potential play partners know that you are a newbie and give them the choice to proceed accordingly. Start off slow, use safewords, and frequent check-ins. Break down and analyze your scenes with your partner after you are done and be receptive to feedback. With dedication, time, and determination, you will soon have the training wheels come off and be swimming in the deep end of the kinky pool!
---
How to better read my submissive?
"What are the cues to look for in subs before it gets to the point that they need to safeword? What are the nonverbal clues that I should be aware of?"–Seeking a Sign
Excellent question! As Tops, we need to have the ability to read our bottoms like a book. This is a critical skill, as bottoms often have trouble
using their words. There are a multitude of reasons why a bottom isn't communicating with their Top, fear of disappointing us, feeling like a failure, or being in the middle of an endorphin dump so strong that they go nonverbal. By the time you get them to safewording, you have passed multiple warning signs on the way.
The person you are playing with is constantly giving off feedback, all you have to do is read it. Is their face relaxed or tense with strain? Are their shoulders hunched up or relaxed? Is their breathing deep and easy or shallow and panting? Are they flinching and trying to avoid you or are they open and receptive to more interaction? Are they just whimpering or are you wrenching deep raw screams from the bottom of their psyche? All of these are things you need to be continually monitoring.
The more you play, the easier the cues will be to pick up. Paying attention to breathing, body language and facial expressions will give you the information you need to safely take your partners on the mind blowing journey that you both crave. Good luck and have fun!
Keep it Kinky My Friends,
RDG
Want to add your own insight to the conversation? Leave a comment below.
Have a question that you want answered in the Dirty Talk Advice Column? Contact Rain here.